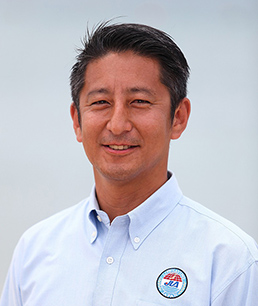 PRESIDENT
JAPAN LIFESAVING ASSOCIATION
入谷 拓哉
Takuya Iritani
I would like to extend my heartfelt Greetings, and a warm welcome on behalf of the Sanyo Bussan International Lifesaving Cup 2018 Organizing Committee.
This event, the only international event for lifesaving in Japan, has grown into a major competition with history and tradition, attracting the world's top lifesavers. It marks its 11th Cup this year.
I would like to express my appreciation to Sanyo Bussan Co., Ltd. and Sanyo Hanbai Co. Ltd., as the Japanese National Team's official partner, for their indispensable support for the ongoing development of the event.
Thanks to this event, the Japanese National team has made remarkable progress over the past decade. The team have been on overseas expedition more than 30 times to compete in international competitions. They have won medals in the World Championships, over 500 athletes have been designated as members in the High Performance Team, and training camps have been held in Japan more than 100 times. We have also held practice sessions for junior and youth age groups to raise the level of lifesaving sport.
In addition, we have strengthened ties with the International Life Saving Federation and other paticipating countries, which have created opportunities to solidify Japan's presence and role worldwide.
This November, the World Championships will be held in Australia. I hope that the Japanese national team will exceed its past results and performances. I believe this upcoming event in Japan is highly meaningful to all competing countries as a preliminary event ahead of the World Championships.
I sincerely hope that all athletes and associates will send the message of the international mission to the world. " A World Free from Drowning".
Finally, I would like to extend my sincere gratitude and appreciation to our special sponsors Sanyo Bussan Co., Ltd. / Sanyo Hanbai Co. Ltd., and all related authorities and persons whose support and cooperation have made this event possible.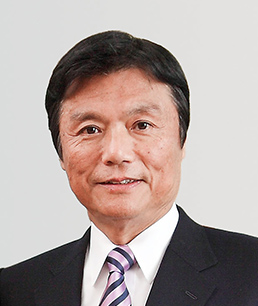 FUKUOKA PREFECTURAL GOVERNOR
小川 洋
Hiroshi Ogawa
I am overjoyed that the 11th Sanyo Bussan International Lifesaving Cup 2018 will be held on a grand scale, and I am very blessed to welcome guests from various regions around Japan and the world to Fukuoka Prefecture.
Lifesaving is a meaningful sport in which highly trained athletes compete in various events developed from rescue techniques, to encourage and improve the physical skills to save lives faster and more efficiently. I believe that holding this event in our prefecture, with many lifesavers from overseas, is highly meaningful to promote sports as well as raising citizen's awareness to prevent waterside accidents. I would like to express my great respect to Japan Lifesaving Association and all those who have put great effort and enthusiasm into preparing this event.
In 2019, the Rugby World Cup will be held in Japan, and Fukuoka is one of the venues for this event. The Tokyo Olympics and Paralympics will be held in 2020 as well.
In Fukuoka Prefecture, we are working to revitalize the region through these big events , strengthen competitive sports such as bring up junior athletes, and develop an environment where anyone can engage with sports regardless of age, gender, or disability.  We greatly appreciate the understanding and cooperation as we step up to promote sports in Fukuoka and harness the power of sports to further energize the region.
We look forward to seeing athletes perform lifesaving techniques that they have attained through daily training and compete with great vigor. We also hope that this will bring an opportunity to meet and interact with people from around the world, and will be a memorable event for all. Please take this opportunity to savor delicious local food using fresh ingredients from the ocean and the mountain, and enjoy your time in Fukuoka.
Finally, I would like to offer my most heartfelt wishes for this event's success and your prosperity from here on.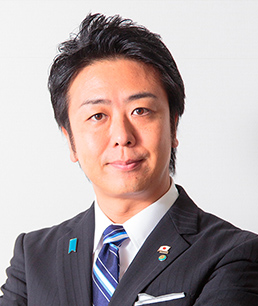 FUKUOKA MAYOR
髙島 宗一郎
Soichiro Takashima
I would like to extend my warm welcome to guests to Fukuoka City from all over the world on the occasion of the Sanyo Bussan International Lifesaving Cup 2018.
Lifesavers' day-to-day efforts to save lives at the watersides, and activities to raise Water Safety awareness and prevent accidents, are worthy of the utmost respect.
I look forward to seeing participating athletes demonstrate their abilities achieved through strenuous daily training and compete with great vigor, and hope that spectators will take a greater interest in Water Safety and prevention of waterside accidents as a result of this event.
In Fukuoka City we are currently conducting "One Citizen One Flower Campaign" the Flower City Fukuoka campaign, in which we encourage each citizen to raise a flower, to turn the city blooming with into one brimming with flowers and greenery. We hope that visitors will enjoy the flowerbeds and trees, intended also to convey a spirit of hospitality, and fully experience the charms of the city that combines an abundant natural environment with efficient urban functionality.
In Fukuoka City, various major sports events will be held around the same time as the 2020 Tokyo Olympics and Paralympics. In 2019 the ISU World Team Trophy in Figure Skating, the Japan Championships in Athletics, and the Rugby World Cup, in 2021 the World Swimming Championship will be held. We view these events as a great opportunity to heighten people's awareness of sports, as we continue to make positive efforts toward sports promotion from the three perspectives of "Participate, Watch, and Support."
I would like to conclude my welcome greetings with my fondest hopes for this event's great success and Japan Lifesaving Association's further growth. Thank you very much.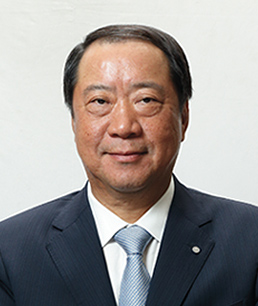 PRESIDENT
SANYO BUSSAN CO.,LTD.
金沢 全求
Zenkyu Kanazawa
I am delighted to welcome the Sanyo Bussan International Life Saving Cup 2018 on a grand scale at Seaside Momochi Beach Park in Fukuoka, welcoming leading athletes from countries around the world.
Sanyo Bussan has been supporting the activities of lifesavers, including Japan's National Team, since 2006. This event will be its 11th time, and it started for the purpose to develop and strengthen the Japanese National Team. I am very excited that Fukuoka is hosting this event following last year. We hope it will be an opportunity for the local community to increase their awareness and feel familiar about lifesaving and Water Safety around the Ocean.
Sanyo Bussan is an entertainment company that aims to take the lead in Japanese amusement through pachinko. The "Umi Monogatari" ("Sea Story") series, one of our flagship series, has been favored by many valued customers since its introduction. This has been supported by customers for such long time because of the "sea" itself, and the assistance from "those who love the sea". I would like to express our sincere appreciation to you all. As being corporate citizens, we will continue to perform to the best of our ability in order to brighten people's everyday lives through contribution to the region and the society.
Our company feels a great empathy towards the activity of Lifesavers, "to save peoples' precious lives" and "to perpetuate the smiles and joy of the bathers visiting the beach". It is a great honor to have the opportunity to support lifesavers that have such heavy responsibility for the safety of human life.
I sincerely hope that the teams competing in this challenging competition will compete to the fullest, to put forth the techniques and mental strength they have gained through their everyday training.
Finally, I would like to extend my sincere thanks to all those whose efforts have made this competition possible.