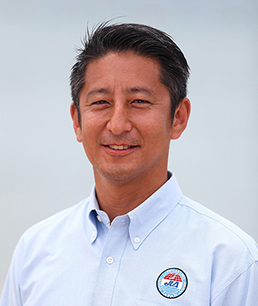 PRESIDENT
JAPAN LIFESAVING ASSOCIATION
入谷 拓哉
Takuya Iritani
Greetings, and a warm welcome on behalf of the Sanyo Bussan International Lifesaving Cup 2019 organizing committee.
Sanyo Bussan International Lifesaving Cup is the only international event among all lifesaving competition in Japan marking the 12th event this year. This event has grown into a major competition and continuously attracts top lifesavers from all over the world. It was first held in Chiba Prefecture, followed by Kanagawa, Wakayama, Aichi, and Miyazaki prefectures, and has taken place in Fukuoka Prefecture since 2017. Over these years we have worked to spread knowledge and understanding of lifesaving through out the places where we held the event. I would like to express my appreciation to Sanyo Bussan Co., Ltd. and Sanyo Hanbai Co. Ltd., as the Japanese national team's official partners, for their indispensable support for the ongoing development of the event.
The Lifesaving World Championships was held in Australia in November 2018, and the Japanese national team competed in the Open and Youth categories. We have attained one gold, one silver, and two bronze medals in the Open category. As a result we have finished in the 8th place overall with our highest score ever in Japan Lifesaving history. We are enhancing our training programs to perform in higher level toward the next World Championships in Italy in 2020.
The Sanyo International Lifesaving Cup is an important event not only for the Japan national team but also for participating teams from other countries, and it makes an international contribution to the promotion of lifesaving sports.
The goal for all competitors and related party who are involeved in lifesaving sports is to achieve the international mission of decreasing the number of casualties from water-related accidents, which are said to occur somewhere in the world once every 85 seconds. We will continue making every effort to achieve this goal.
Finally, I would like to extend my sincere gratitude and appreciation to our special sponsor Sanyo Bussan Co., Ltd. / Sanyo Hanbai Co. Ltd. and supporters Fukuoka Prefecture, Fukuoka City, the Fukuoka City Board of Education, Fukuoka Convention & Visitors Bureau, and all related authorities and persons whose support and cooperation have made this event possible.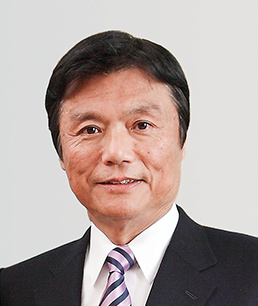 FUKUOKA PREFECTURAL GOVERNOR
小川 洋
Hiroshi Ogawa
I am very pleased to welcome the Sanyo Bussan International Lifesaving Cup 2019 here in Fukuoka Prefecture. I would like to extend my most heartfelt welcome to the top competitors who have gathered here from around the world.
Lifesaving sport was created to improve rescue skills and strengthen physical ability. Through their training athletes compete in various forms of rescue events. Hosting the international lifesaving competition in Fukuoka prefecture will draw great interest from the citizens and will connect to prevent aquatic accidents. I have the deepest respect and admiration for the efforts and enthusiasm of everyone involved in this event.
Rugby World Cup will take place in Asia for the first time in September and three games will be held at Hakata no Mori Stadium in Fukuoka. The eagerly anticipated Tokyo Olympics and Paralympics will be held next year. We are very pleased to be one of Japan's top locations for camps for overseas National teams. Fukuoka Prefecture intends to build on these opportunities and support and promote sports in this prefecture, by developing programs of junior athletes, strengthening competitive sports, and maintaining an environment where anyone can engage in sports regardless of age, gender, and presence or absence of disabilities. Through these efforts we will further promote the realization of the "Sports Prefecture Fukuoka" vision, aiming to enliven the sports scene and improve the prefecture and the lives of its people through the power of sports. We look forward to your continuing understanding and cooperation.
I look forward to seeing all the athletes who compete today and take full advantage of the rescue techniques they have developed through rigorous training and engage in thrilling competition while getting to know their fellow lifesavers who have gathered from around the world. Let's make this competition a memorable event. I sincerely hope visitors will take this opportunity to enjoy Fukuoka Prefecture, by also savoring fresh seafood, vegetables, and other culinary delights.
In closing, I would like to express my most heartfelt wishes for the success of this event and of all its competitors and affiliates.
FUKUOKA MAYOR
髙島 宗一郎
Soichiro Takashima
I would like to extend our warm welcome to all the guests who have come to Fukuoka from various parts of the world to participate in the Sanyo Bussan International Lifesaving Cup 2019.
It is highly meaningful that we are able to promote lifesaving activities aimed at "zero waterside accidents" through this championship, and we would like to express our deepest respect and gratitude for all the people who have contributed to make this event possible.I look forward to seeing the athletes demonstrate their abilities achieved through strenuous daily training and compete with vigor, and hope that spectators will have great interest in lifesaving activities and prevention of waterside accident as a result of this event.While your stay in Fukuoka, we will be delighted if you take this opportunity to enjoy the city where an abundant natural environment and a full range of urban functions are consolidated in a compact area and savor the fresh seafood and other great dining.
We will be hosting several major sports events in Fukuoka City in 2019. There will be JAAF Athletics Championships in late June and the Rugby World Cup in September and October, and the year after the 2020 Tokyo Olympics and Paralympics, the FINA World Aquatics Championships will be held in Fukuoka in 2021.>We view these events as a great opportunity to heighten people's awareness of sports further, and we ask for your kind cooperation in the future, as we continue to make positive efforts toward sports promotion from the three perspectives of "participate, watch, and support."
In closing, I hope that the athletes will perform at their best condition and wish the event a great success.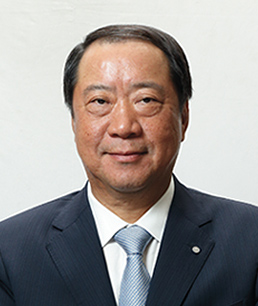 PRESIDENT
SANYO BUSSAN CO.,LTD.
金沢 全求
Zenkyu Kanazawa
We are delighted to have the Sanyo Bussan International Lifesaving Cup 2019 at Seaside Momochi Beach Park in Fukuoka City, welcoming the top competitors from around the world.
We have been supporting the activities of lifesavers, including the Japan National Team, since 2006. This event was launched with the aim of strengthening the Japan national team and it will be the 12th time this year. We are very pleased that it is once again being held in Fukuoka, as we welcomed the event last year and the year before. We believe that this competition among the world's top lifesavers offers a valuable opportunity for members of the community to increase their familiarity with lifesaving activities which keeps people safe at waterfronts.
Sanyo Bussan is an entertainment company that aims to "Be a leader of Entertainment in Japan" through our popular pachinko machines. Our flagship product, the Sea Story series of pachinko machines, has had a widespread, enthusiastic fan since its launch. The setting of this series is the ocean, and we are deeply grateful to it and people who love the Oceanfor making this success story possible. As a corporate citizen, we will continue contributing to the community and society while aiming to make people's lives more happy
Protecting people's irreplaceable lives, and safeguarding the smiles and delight of people who visit the oceanand the beach: we feel great empathy to the activities of lifesavers, who shoulder the heavy burden of responsibility for the safety of human life, and we are very proud to be able to support their activities. At this year's competition, I look forward to seeing all participants fully utilize the skills and spirit they have cultivated through day-to-day training and expect a wonderful competition that will thrill the spectators.
Finally, I would like to express my most heartfelt gratitude to everyone whose contributions made this event possible.